Tamás Kaczmarski
It's funny how life twists and turns, I had an enquiry for a pair of Indian Clubs in October 2015 which came from Szabolcs Varga in Szombathely, Vas, Hungary. He told me that the clubs were going to be a birthday present for his training coach Tamás Kaczmarski, which was going to be presented to him by his students. See below…..
Ever since making contact, Tamás and I have been in touch, and I thought it would be a good time to invite him for an interview.
When did you start swinging Indian Clubs, and Hungarian Hammer?
Tamás Kaczmarski:- I started using Indian Clubs ten years ago, they were teardrop clubs. As for the Hungarian Hammer, I started it ten years ago. I tried to combine it with movements from Lance fighting and elements.
Can you give a brief description of Baranta?
Tamás Kaczmarski:- Baranta is a traditional Hungarian martial art style. Foreign invading forces into Hungary played a major role in the restriction of motion culture and techniques of Baranta with their prohibitive and restrictive laws on wrestling, brawling, fencing, archery and horse riding. Therefore, Baranta could only survive in martial dances, in the lifestyle of Magyar shepherds, in fencing books, and on artistic representations.
The name Baranta derives from an old Hungarian word meaning, roughly, "to maraud." Today, it refers to a fighting style based on a hybrid of Hungarian folk dancing, wrestling, and the imagined combat skills of its practitioners' warrior ancestors.
What sparked your interest in Indian Club Swinging?
Tamás Kaczmarski:- I had a serious shoulder injury and I intended to find a way of training that could help to make it right. The doctors were not able to cure it for half a year, so I had to find something to heal it.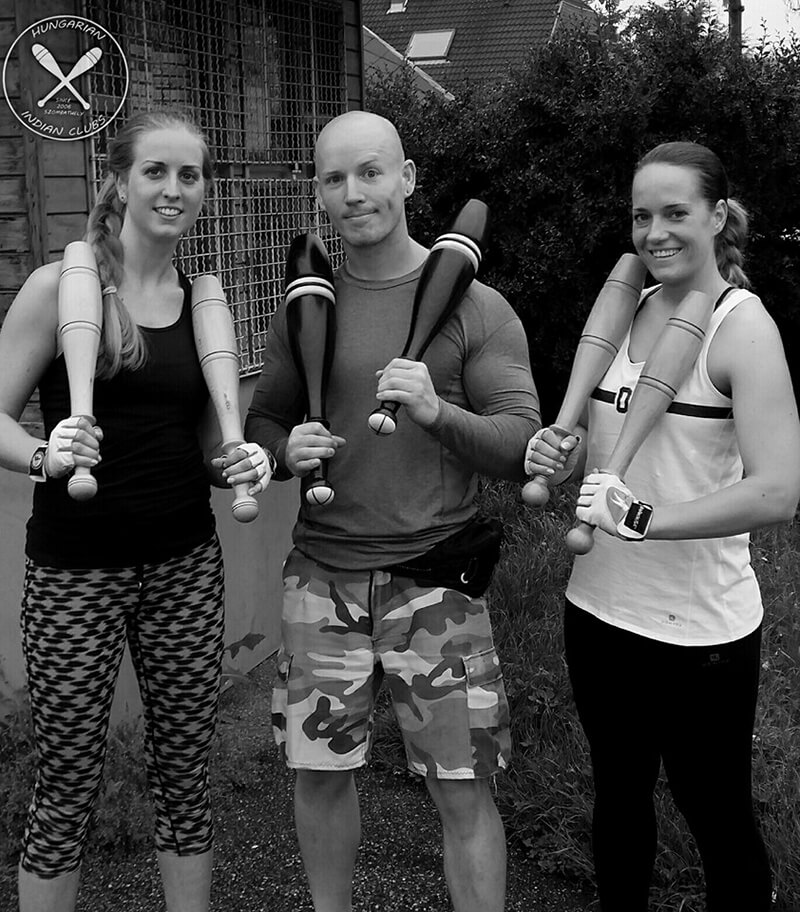 Can you explain why you enjoy Indian Club exercise?
Tamás Kaczmarski:- It goes against the acquis of today's modern fitness industry, it requires not only physical but also mental persistence and it increases strength. I like the fact that it is traditional.
Do you swing Indian Clubs one or two handed?
Tamás Kaczmarski:- As for the Indian Clubs, I do two hand swings, but  I use the mace and gada for both one  and two hand techniques.
If you were to be cast away alone on a desert island, which pair of Indian Clubs would you choose to have with you?
Tamás Kaczmarski:- I would definitely take the clubs Paul Taras Wolkowinski made for my birthday to a desert island. First of all, I got the clubs from my students and friends and this fact makes them invaluable for me and they are of high quality with perfect shape and weight for training with them. These are my favourite Indian Clubs.
Why did you decide to become an Indian Club trainer?
Tamás Kaczmarski:- In Hungary, there weren't any club trainers at that time so I would have liked to acquire this traditional training method and make it perfect and build it in the training of the Hungarian people.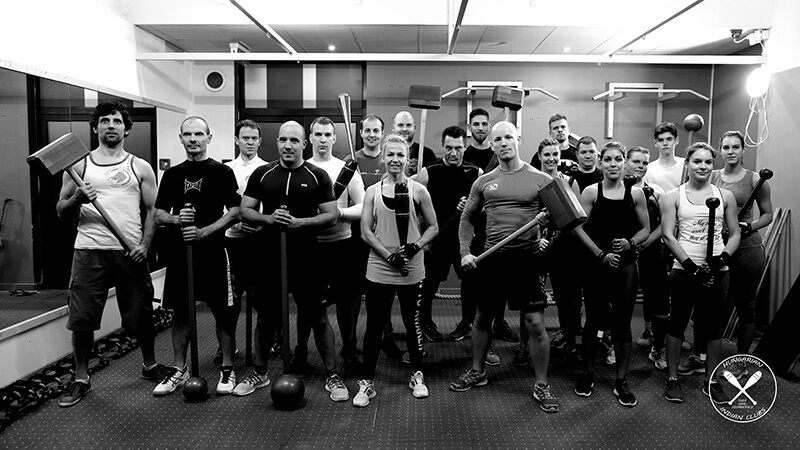 In your opinion, what are the benefits of Club swinging for the average person?
Tamás Kaczmarski:- It increases the strength and mobility of the joints and tendons of your shoulders, improves the ability of concentration and technical skills.
How do you combine Indian Clubs in combination with other training?
Tamás Kaczmarski:- At the beginning of training I warm up with a pair of one-kilo clubs then I increase the weight up to 3 kilos. Then I do Indian and Hungarian exercise like climbing, jumping, rope climbing, training bag, gada, callisthenics and primal animal workout. The end of the training like the beginning is with clubs again. On particular days, I just train with clubs.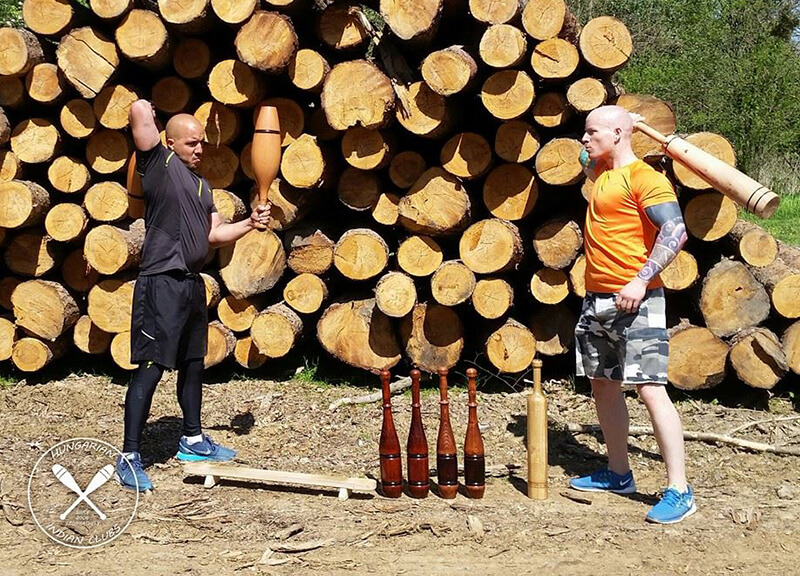 Out of all the old books written about Indian Clubs, which one is your favourite and why?
Tamás Kaczmarski:- My favourite book is The Indian Club exercise by Sim. D. Kehoe. I am trying to keep up with the new techniques and get more information about the development and historical background of the macebell and follow Paul Taras Wolkowinski's work.
Have you had any difficulty introducing Indian Clubs and Mace training in Hungary and Central Europe?
Tamás Kaczmarski:- I have come a long way, and it has been a great deal of work to make Indian Clubs and Mace training popular. The effort has been worthwhile, as I have managed to develop and build a whole system, the use of which, is becoming increasingly widespread in Hungary and neighbouring countries.
My aim and mission are to help anyone interested in it and to open the eyes of sports lovers and popularise this form of movement among more and more people.
Fortunately, in recognition of my persistent and long lasting work, I have been given a lot of invitations to hold joint training to help develop the future generations.
Nowadays I am doing a project together with wrestlers and boxers to make their conditioning training more effective.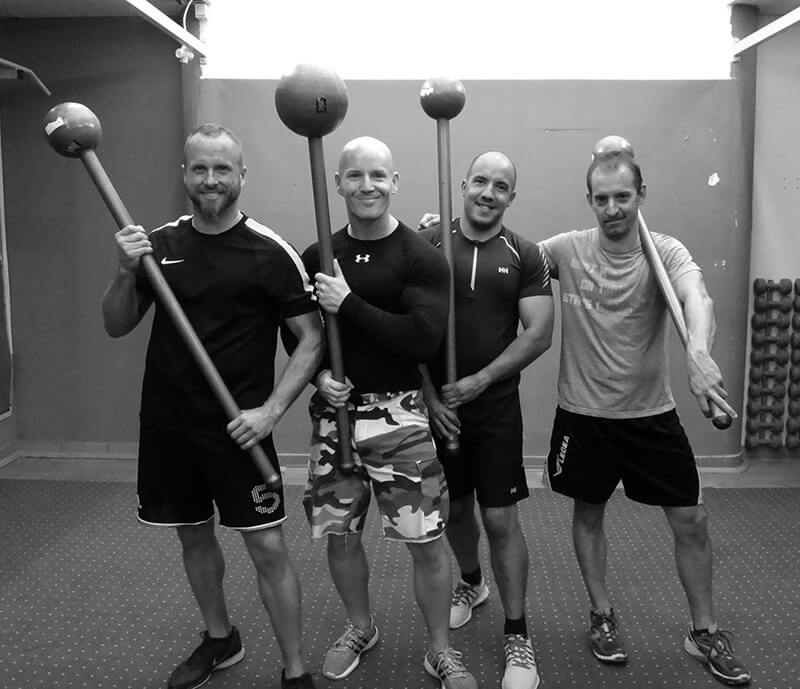 Has Indian Clubs and Mace training been given any media attention?
Tamás Kaczmarski:- Yes, more magazines and newspapers have contacted me and I first gave an interview to Ágnes Kovacsik and Péter Máté who represented one of the most well-known Hungarian online news portal. There is another video of Tamás on this link.
Can you describe the history of the Hungarian Wooden Hammer?
Tamás Kaczmarski:- Growing up I learned about the legend of Proud Botond and the history of Kinizsi Pál, who were both great Hungarian figures of their times who used traditional wooden weapons.
I have to thank my parents and grandparents who introduced me  as a child to my everyday toys like the wooden sword, wooden mace as well as the bullwhip.
As for the history of the Hungarian hammer, I developed it with one of my friends from a folk hammer.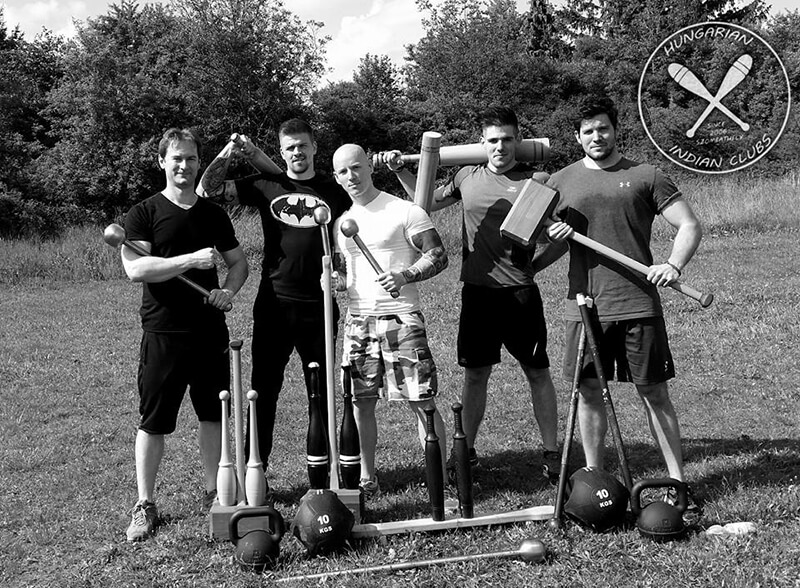 Cult and respect of strength were important in the worn-torn history of the Hungarians, so showing off their strength was part of their everyday life.
During the Mayday spring festival, people erect maypoles, boys did not only have to climb to the top, but also hold out a long wooden pole, with a hammer head mounted on the end, or another heavy wooden object.
My childhood memory and a visit to the local village museum reminded me of these customs and inspired my creating the Hungarian Wooden Hammer.
The Hungarian Wooden Hammer combines the exercises made by the hammer and the mace. The bulky shape of the hammer head and the oval form of its handle, change the handling dynamics of its manoeuvrability compared to Gada.
In the past, I trained with weights and found myself looking for real creativity and the artistic value.
It is the beauty and creative strength, that my life got back from my childhood thanks to the Gada, Indian Clubs and the Hungarian Hammer.
With this training system, I intend to pay tribute to the traditions of my ancestors.
I would like to say a big Thank You to you Tamás Kaczmarski for taking the time to answer all my questions.
Tamás Kaczmarski lives and works in Szombathely, Vas, Hungary
FOR MORE INFORMATION
Visit us on YouTube:-  INDIAN CLUBS and how to use them by Paul Taras Wolkowinski
Like us on FaceBook:-  INDIAN CLUBS on FaceBook