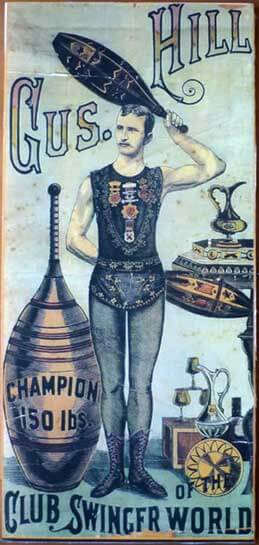 Gus Hill – Champion Club Swinger
This is a portrait of one of the most colourful entertainers and athletes to perform on stage with Indian Clubs. Gus Hill was born Gustave Metz in Bowery, New York, 22nd February 1858, died 20th April 1937, he stood 5ft 8in and weighed 148lbs.
His first public appearances were in competitive and exhibition events swinging Indian Clubs, boxing and wrestling. All three types of matches were heavily promoted athletic rivalries between Hill and local contenders for some kind of 'championship' medal or honour. He was the winner of 18 competitions, 59 medals, 24 cups and goblets.
Hill performed in these entertainments for several years and later toured with burlesque and vaudeville companies. After ten years of touring he produced his own entertainments based on these shows.
The legendary performances included a Hercules Act where he would challenge audiences with feats of strength swinging 10, 30, 60, 75 and 115 pound Indian Clubs. Hill played at leading theatres and was very popular. Besides being a champion Indian Club swinger he was an elbow wrestler and sparer, having wrestled and sparred with some of the best men throughout the country.
Travelling showmen like Gus Hill flourished on the road presenting trunk shows as the profession knew them. The scenery was designed to fold into trunks drastically reducing the need for extra baggage cars that were required for larger productions. By such economies Gus Hill became one of the wealthiest theatrical men in USA.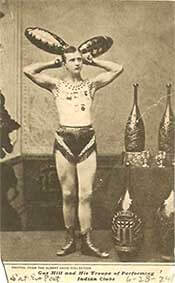 Gus Hill was an Indian Club enthusiast and began performing routines as part of his road theatre shows, he continued using clubs in his performances during his travels round the US. The Indian Clubs were of staggering weight. He exhibited them in the theatre lobbies before the show and would invite men and boys from the audience to try and lift them. Few could, much less perform the feats of strength and dexterity that Hill seemed to do so effortlessly on the stage.
The explanation lying in the false bottoms that disgorged the lead weights with which the clubs were loaded whilst on display and emptied back stage prior to his performances.
A charlatan and a cheat you might think, however consider that the Hill's Indian Clubs with their concealed false bottoms would have to been made, sturdy and strong enough to hold massive amounts of lead shot. Even though deception was involved to heighten the effect of his performances, these clubs would have presented a challenge to swing empty based on their size, bulk and sturdy manufacture.
Read about Gus Hill Replica Indian Clubs
FOR MORE INFORMATION
Visit us on YouTube:-  INDIAN CLUBS and how to use them by Paul Taras Wolkowinski
Like us on FaceBook:-  INDIAN CLUBS on FaceBook