Indian Clubs inspired Perrier bottles
In 1903 Indian Clubs inspired the shape of the now famous Perrier Water Bottle, the bulbous teardrop shape and narrowing neck has been the silhouette of the distinctive green bottles for over a hundred years.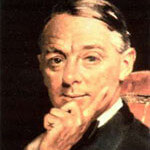 An investor named Sir St. John Harmsworth went to France to learn the language, during his stay he met a physician named Dr. Louis Perrier who operated a spa at a property in France called Les Bouillens, this site contained a spring water source called Vergèze spring where naturally carbonated water bubbled to the surface.  Legend has it that in 218 B.C., Hannibal and his army paused at the spring to refresh after defeating the Romans.
Perrier developed a bottling technique for the water, but needed a finance partner for the project. Harmsworth sold up his interests in the Daily Mail Newspaper and purchased the property. Bottled water production soon commenced and the business was named Source Perrier.  The precious waters are still sold in the distinctive green bottles we know so well today. The shape of the bottle has remained relatively unchanged for the last century.
Did you know that Indian Clubs inspired the design of these famous bottles?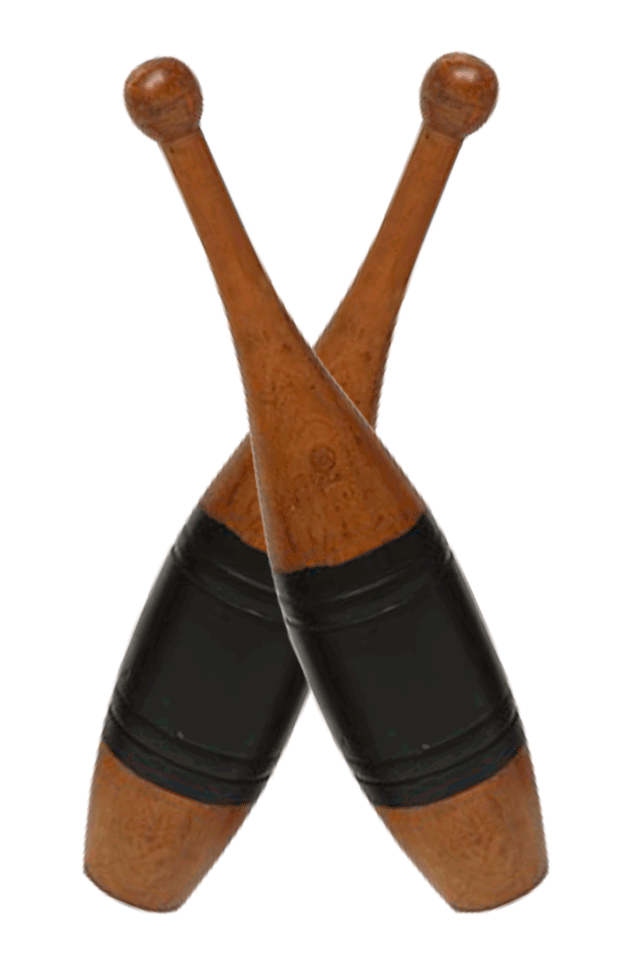 Harmsworth was a keen advocate of physical exercise, he purchased a pair of Indian Clubs on a visit to New Delhi, India. Sadly as luck would have it he suffered a leg injury in a car accident, and was reputedly bound to a wheelchair, he maintained his fitness by exercising with Indian Clubs.  The inspiration for the distinctive bottles was derived whilst vigorously swinging his clubs, enjoying the natural rhythm stimulating his mind and body during his workouts. The bulbous teardrop shape and narrowing neck of Indian Clubs inspired Perrier bottles and was adopted for production.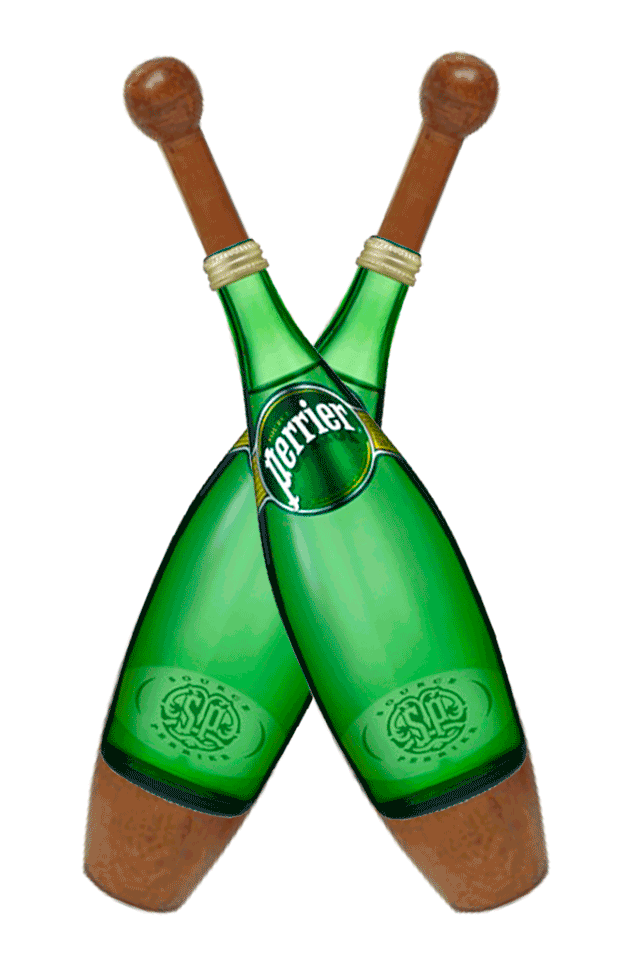 The use of Indian Clubs went into decline in the 1930's and was dropped from the Olympics after the 1932 games, many practitioners were ridiculed and the emergence of the modern day gym quashed any further interest.  In the mean time the sales of water in its iconic Indian Clubs inspired Perrier bottles flourished, the mineral water headed a tidal wave of popularity for product worldwide. Perrier was the first imported sparkling natural mineral water brand to be sold in supermarkets and quickly became a staple in homes and restaurants across the world. Social drinkers started ordering Perrier instead of a cocktail or soft drink. The brand's popularity grew as a refreshing, all-natural, alternative beverage.
Today Indian Clubs are being rediscovered, and now you have a good story to tell the next time you drink Perrier Mineral Water, enjoy the swinging your Indian Clubs the next time you pick them up, may you also find inspiration.
The following images are Perrier posters, where you can clearly see the Indian Clubs inspired Perrier bottles.