Indian Club World Tour 2017 – WORKSHOP Dates
For reasons beyond my control, I have been forced to cancel the upcoming Indian Clubs World Tour WORKSHOPS 2017.
The reason for the cancellation is that I was diagnosed with Prostate Cancer on 13th April 2017 and have to undergo an operation.
The workshops will be re-scheduled once I have recovered. If you have registered, your purchase will be refunded in full.
Please accept my apologies for any inconvenience this may cause you.
Yours in club swinging. Paul Taras Wolkowinski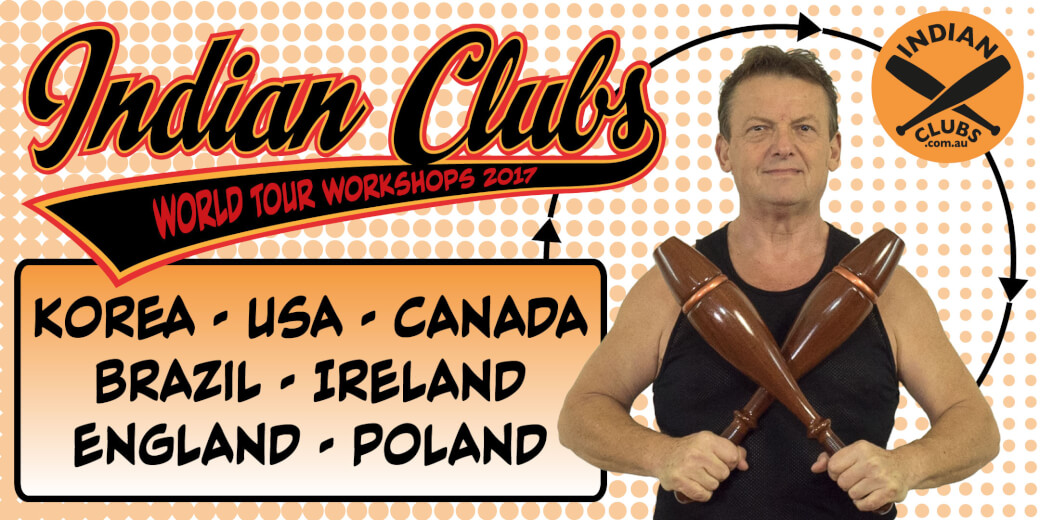 Indian Club World Tour 2017 – WORKSHOP
Dates, Locations & Registration
Click on your preferred LOCATION and complete your REGISTRATION
Please note that all dates are specified as MONTH, DAY & YEAR
| | | | | |
| --- | --- | --- | --- | --- |
| ORGANISATION | HOST | LOCATION | WORKSHOP | DATE |
| Soma and Body | Joohyun Kim | Seoul, Korea | Indian Clubs | 5/5/17 |
| Soma and Body | Haneol Kim | Seoul, Korea | Gada (Mace) | 5/6/17 |
| Soma and Body | Joohyun Kim | Seoul, Korea | Persian Meels | 5/7/17 |
| Rosewater Kinetics | Mike Romiski | Lewiston ID | Indian Clubs | 6/10/17 |
| Personal Excellence Training/ CrossFit Excellence | Cody Limbaugh | Portland OR | Indian Clubs | 6/17/17 |
| Tosetti Institute of MMA & Fitness | Fred Kaye | Redwood City CA | Indian Clubs | 6/18/17 |
| Regency Community Park | Phil Roland | Sacramento CA | Indian Clubs | 6/20/17 |
| The Fittestry | Eric Doyle | Signal Hill CA | Indian Clubs | 6/24/17 |
| Kettlebell Sanctuary | Moses Dunca | Las Vegas NV | Indian Clubs | 6/25/17 |
| Texas Kettlebell Academy | Aaron Vyvial | Austin TX | Indian Clubs | 7/01/17 |
| Forteza Fitness | Kieth Jennings | Chicago IL | Indian Clubs | 7/02/17 |
| Oz Strength & Conditioning TBC | Jennifer Branning | Fort Wayne IN | Indian Clubs | 7/07/17 |
| Bang Fitness | Geoff Girvitz | Toronto ON | Indian Clubs | 7/09/17 |
| Indian Clubs Boston | Gillian De Lear | Boston MA | Indian Clubs | 7/13/17 |
| Compelling Fitness | Bret Bondlow | Duxbury MA | Indian Clubs | 7/15/17 |
| Alpha Fitness | Dan Crawley | East Greenwich RI | Indian Clubs | 7/22/17 |
| Q Kettlebell Strength and Conditioning | Eric Reyelt | Randolph NJ | Indian Clubs | 7/29/17 |
| Indian Clubs Brazil | Julio Diniz | Rio de Janerio BR | Indian Clubs | 8/05/17 |
| Indian Clubs Brazil | Frank Colon | Rio de Janerio BR | Meels Gada | 8/06/17 |
| Indian Clubs Ireland | Cillin Cleare | Limerick IR | Indian Clubs Gada | 8/12/17 |
| Sheffield Indian Club Swinging Certificate Course | Mike Simpson | Sheffield UK | Indian Clubs | 8/18/17 8/19/17 8/20/17 |
| Body Mind Fit | Peter Hodkinson | Bradford on Avon UK | Indian Clubs | 8/26/17 |
| Body Mind Fit | Peter Hodkinson | Bradford on Avon UK | Persian Meels Gada | 8/27/17 |
| Indian Clubs Polska (Poland) | Kamil Jurkiewicz | Warsaw Poland | Indian Clubs | 9/02/17 |
Students have to provide their own Indian Clubs.
The recommended club specifications are as follows:-
Men weight 2lbs per club, length 19"/21" inches
Women weight 1lb to 2lbs per club, length 17"/19" inches
All clubs have to made of wood, no clubbells.
To purchase clubs enquire at the venue of your choice or visit my manufacturer page
Workshops outline:-
Each Indian Club Workshop is limited to a minimum of 12 students and a maximum of 20 students.
6 hours duration, with focus on basics and good form, leading to combinations and how to choreograph a routine.
Introduction & History
Safety Concerns – Weapon – Training Space
Warm Up – Hands and Shoulders
Anatomy of a Club – Pommel, Handle, Body and Base
Grips and Exercises – Hammer, Sabre and Third Finger
Stance – At Ease, Starting Position, Y-Position
Planes of Motion – Frontal, Sagittal and Transverse
Feet – Informal Frontal, Formal Sagittal, Transverse uses both foot positions
Understanding the Centre Line of the Human Body on all Planes
Breathing – IN arms up – OUT arms down
Flight Path of a Club – Two Dimensional Circle
Five Basic Circles – Inward and Outward
Music and Counting
Creating Combinations
Create and Choreograph a Routine
Questions
See you there!
Visit YouTube:- INDIAN CLUBS and how to use them by Paul Taras Wolkowinski
FaceBook:- INDIAN CLUBS on FaceBook