Indian Club Workshop 2017
with Paul Taras Wolkowinski
from INDIAN CLUBS and how to use them and Indian Clubs Academy
Indian Club Workshop 2017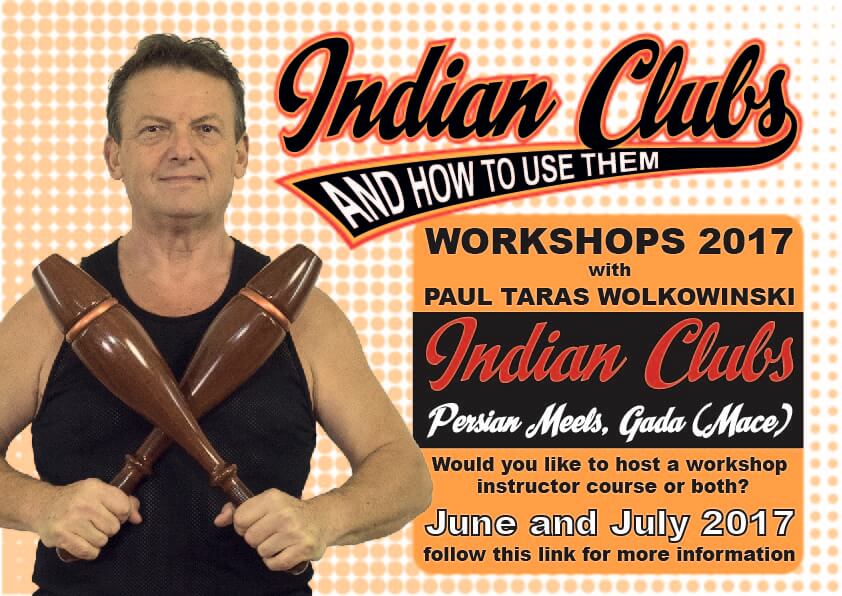 Are you interested in Indian Clubs, Persian Meels or Gada (Mace)?
Would you like to host a workshop or an instructor course during the months of June and July 2017?
I run two websites, a YouTube Channel, a Facebook Page, and Instagram dedicated to the arts of Indian Clubs, Persian Meels and the Gada (Mace).
My readers and subscribers visit my websites because they want more information about Indian Clubs, Persian Meels and the Gada (Mace).
I believe that many people want to learn, but they are unsure where to start.
To help solve the problem I started to record and present online video lessons and information based on my personal experience and research over the last ten years.
My mission is to promote club swinging, it's methods, benefits, and history for future generations.
Paul Taras Wolkowinski
---
Workshops outline:-
Each Indian Club Workshop is limited to a minimum of 12 students and a maximum of 20 students.
6 hours duration, with focus on basics and good form, leading to combinations and how to choreograph a routine.
Introduction & History
Safety Concerns – Weapon – Training Space
Warm Up – Hands and Shoulders
Anatomy of a Club – Pommel, Handle, Body and Base
Grips and Exercises – Hammer, Sabre and Third Finger
Stance – At Ease, Starting Position, Y-Position
Planes of Motion – Frontal, Sagittal and Transverse
Feet – Informal Frontal, Formal Sagittal, Transverse uses both foot positions
Understanding the Centre Line of the Human Body on all Planes
Breathing – IN arms up – OUT arms down
Flight Path of a Club – Two Dimensional Circle
Five Basic Circles – Inward and Outward
Music and Counting
Creating Combinations
Create and Choreograph a Routine
Basic Certification to Coaching Certification
To achieve Basic Certification each student has to be tested individually and display competence in swinging Indian Clubs, Persian Meels or Gada (Mace) after the workshop.
Each successful student will also have to keep and provide a 100 hour diary of club swinging and provide a video with front and back views for scrutiny and comment prior to receiving Coaching Certification.
Students have to provide their own Indian Clubs.
The recommended club specifications are as follows:-
Men weight 2lbs per club, length 18"/22" inches
Women weight 1lb to 2lbs per club, length 16"/20" inches
All clubs have to made of wood, no clubbells.
To purchase clubs visit my manufacturer page
Other Activities
History and Evolution of Indian Clubs, Persian Meels, Gada (Mace) and Jori Clubs, presented as a talk with demonstrations.
Charity Fund Raising Events.
Personal Coaching and Courses.
If you are interested in hosting an Indian Club Workshop or an instructor course, feel free to contact me via email paul@indianclubs.com.au and I look forward to hearing from you.
Please note that there is a cut off date and I need your reply by 31st January 2017 latest. Do not delay to avoid disappointment.  – Applications are CLOSED.
Indian Clubs World Tour 2017
Four years ago in 2013, I started traveling and running workshops.
In the subsequent years of 2014, 2015 & 2016, I have run workshops in USA, England, France, Finland, Denmark, Poland and South Korea.
POLAND hosted by Kamil Jurkiewicz
DENMARK hosted by Thierry Sanchez
SOUTH KOREA hosted by Joohyun Kim and Haneol Kim
Personal Development
My knowledge of Indian Club swinging has come from old books and manuals, continuous practice and skills development.
I learnt to swing Persian Meels at the Zurkhaneh Academy in Shiraz, Iran.
Two extended visits to Varanasi and Mysore, India gave me to opportunity to learn how to swing the Gada (Mace) and Jori Clubs.
VARANASI with Gyanshankul Singh
My mission is to promote club swinging, it's methods, benefits, and history for future generations. Paul Taras Wolkowinski