About Indian Clubs and how to use them
Why Indian Clubs will help you get FIT and HEALTHY
10 INDIAN CLUB SWINGING BENEFITS
Body conditioning to enhance stamina and endurance
Strengthen your back, shoulders, pecs, biceps, triceps, forearms and grip
Speed up your blood flow to boost your health
Revitalise your body, with deep rhythmic breathing
Repair your connective tissue, ligaments and tendons
Boost your shoulder efficiency and stability
Increase your elbow and wrist flexibility
Improve your range of motion and mental agility
Develop your coordination, balance and mobility
Counteract the negative impact of driving and sitting at a desk
I believe smart people who want to stay fit for their WHOLE lives, will benefit from the challenge of learning and swinging clubs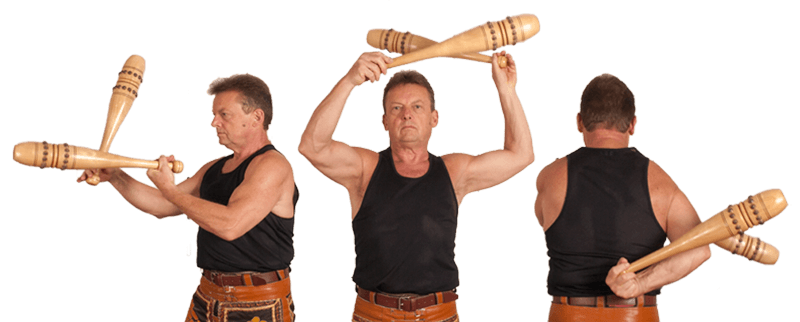 How can you find the time to do this while running a business… while working a full-time job… while raising a family?
Instead of digging through hundreds of old books and manuals, and wasting time trying to figure it out by yourself, subscribe to Indian Clubs (it's free)
What people are saying
---
 You are a man with Passion for clubs and THE BEST in WORLD. Your videos can be the treasure for feature generation who are interested in Club exercises. A salute to U. – Ramu2626
---
Excellent demonstration coupled with a very clear and detailed explanation!  As I'm getting the hang of swinging my own self-carved Indian Clubs (1.65 kg. ea.), I'm very much enjoying the mental and physical exercise that they are providing. – Frank Colon
---
Paul,  I just want to thank you again for the outstanding tutorials you have put together.  I have been able to learn the various mill exercises, but I was not able to figure out how to transition.  Low and behold I dig around on your website and there is the transitions tutorial.  Now I am working to make those transitions which look so deceptively easy but actually take a great deal of practice and concentration.  I really enjoy the challenge. Your tutorials are solid gold and excellent teaching aids, and I look forward to meeting you in July when you bring your world tour to the LA area. – James Kurupas
---
Nice Paul, amazing technique. I bought one of these to practice. I'm waiting to receive them. Thanks for the tutorial. – Andres Regueira
---
I remember the first time I saw this. Having spent those 2 days under your wing, it makes an enormous difference to understanding the flow – thanks for your time and your excellent tutelage. – davidmc444
---
Paul is one of the main reasons why I began to train more intently and travel to India to learn the techniques first hand. Paul's videos really inspired me  to pull my finger from out of my arse and take the plunge! – Marcus Quijas – The Quiet Power – Read more…..
---

Indian Clubs Australia was founded by Paul Taras Wolkowinski. Paul is an expert club swinger and teacher. After spending years researching, reading and learning from old books and manuals, plus travelling extensively, Paul has become expert in the four disciplines of club swinging. Indian Clubs, Persian Mil, Indian Jori and Gada Mace.

He has created this website with what he loves most, in sharing this ancient form of exercise and conditioning. You'll find that his approach to Club Swinging simple and straight forward. He has developed his own unique style, which has been shared and followed extensively on this website, YouTube and FaceBook.
You will also find a lot of video footage on club swinging from different parts of the world.
More specifically, Paul presents a mix of club swinging information from many sources with the aim of sharing the history and  methods, promoting clubs swinging into continuation for future generations. Allow yourself to be a beginner. No one starts off being excellent.