#001 Which size Indian Clubs should I buy first?
This has to be one of the most frequently asked questions I receive on a regular basis.
Which size Indian Clubs should I buy first?
To answer this question I have drawn on my personal experience and mistakes and have put together this information to help you choose a pair of Indian Clubs making sure that you have chosen the right pair of Indian Clubs for you as the wrong selection will have a negative impact on your ability to swing clubs correctly.
My first pair of Indian Clubs
Here is a quick outline of how I got my first pair of Indian Clubs. I found a book called 'Indian Clubs' written by GTB Cobbett and AF Jenkin and published in 1905.
The book contained a template for making Indian Clubs. I decided to find a local woodturner to make me a pair. My first clubs were 26" long and weighed 2.5lbs each. Little did I know that  I was embarking on a huge learning curve. I started to swing the clubs and made reasonable progress, but there was a problem, a big problem.
A big problem
I quickly discovered that my clubs were too long and too heavy. This meant that I had problems executing very basic movements.
Which is why it is so important for you to know which size Indian Clubs you should buy first?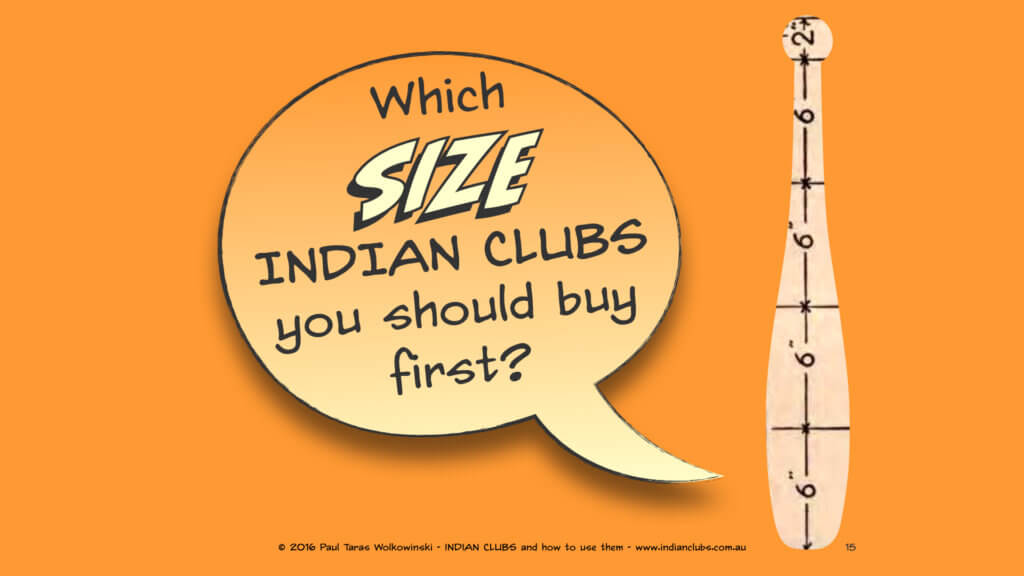 Indian Clubs are relatively light weight as they are swung in both open and closed arm style.
Clubs weighing one or two pounds each are heavy enough for you, or clubs that weigh about half or one kilo each are perfect. The ideal club length should be in the range of 15" to 20" inches or 35cms to 51cms, dependant on the weight of the club.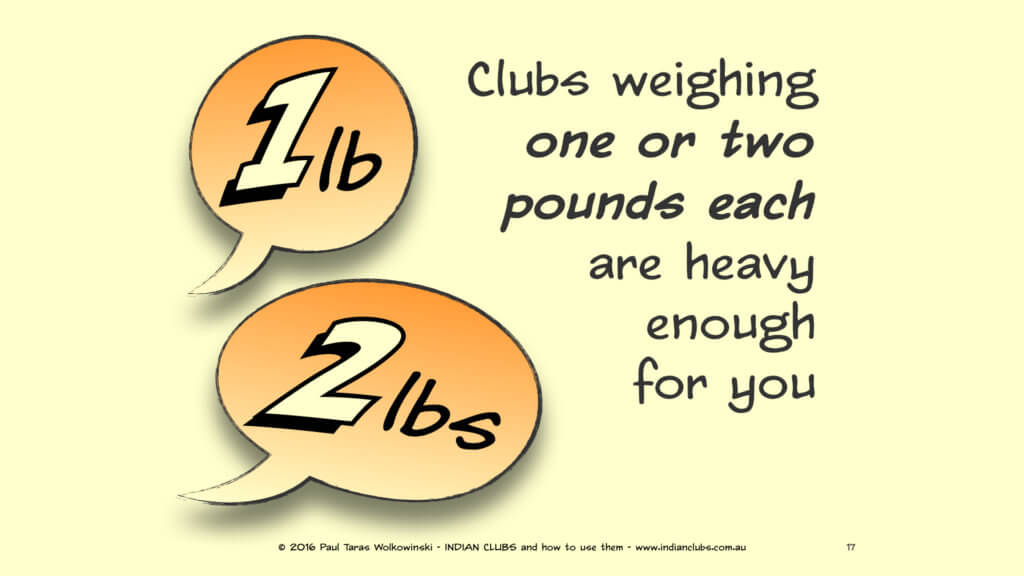 Your current strength and fitness
The choice of Indian Clubs should be made regardless of your current strength and fitness. No matter what weights you currently squat, bench press or deadlift. No matter how incredibly flexible you are. Clubs weighing one or two pounds each are heavy enough for you.
The choice of Indian Clubs is dependant on your size and physique. Indian Clubs form an extension of your arm by adding length and weight they simply make your arms longer and heavier.
Indian Club Swinging can be described as circular weight training that exercises your shoulders, elbows, wrists and fingers in ways not possible with traditional linear resistance training and yoga.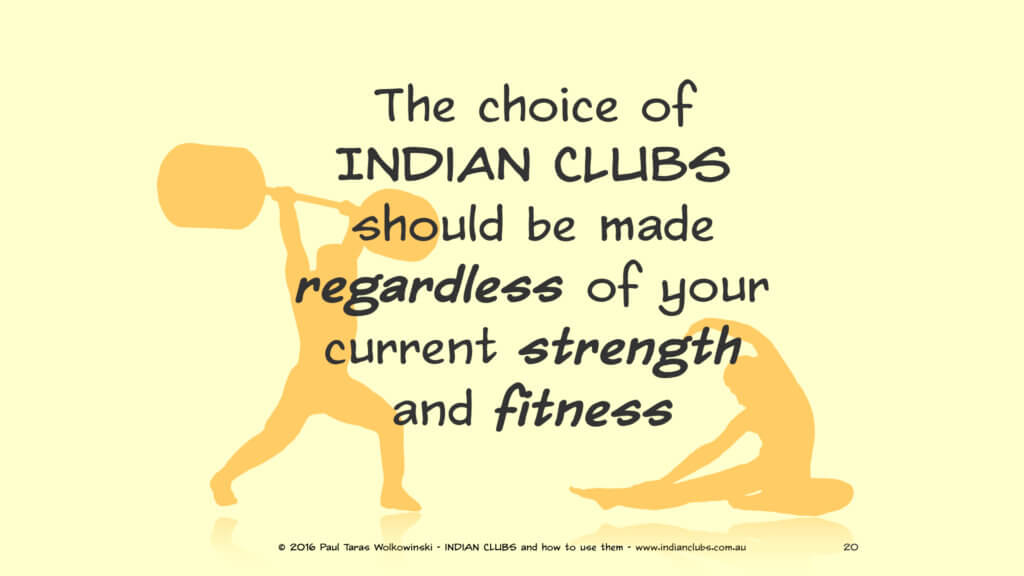 Conditioning and mobility
Indian Clubs are a conditioning and mobility tool that will compliment your other training disciplines.
Seek professional medical advice
Now for some serious stuff I'm talking existing injuries, Indian Clubs can help, but if you have an existing shoulder, elbow, wrist or back injury, in fact if you suffer from any form of injury. You must seek professional medical advice before using Indian Clubs.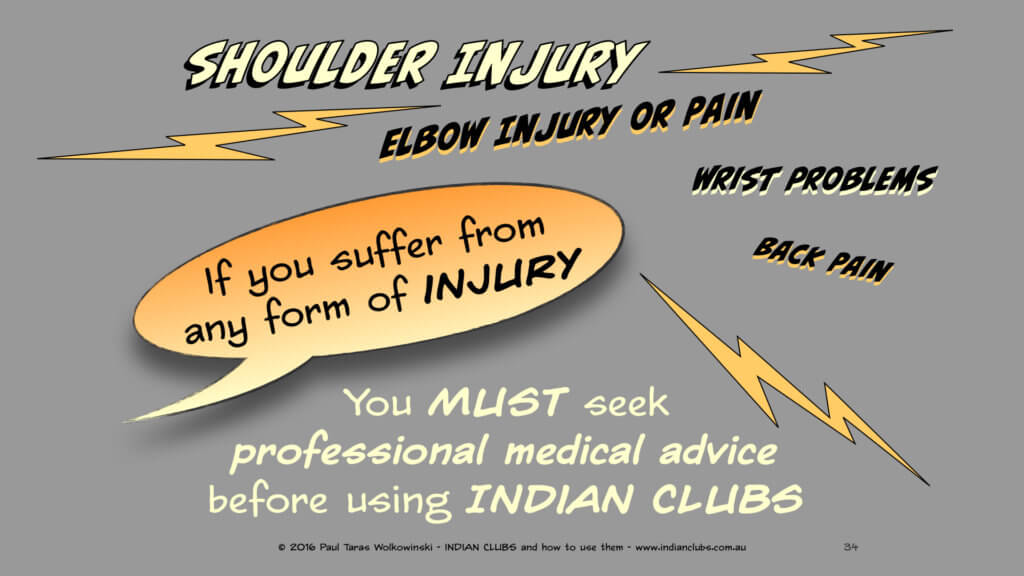 Heavy Clubs
Many people often ask when they can start using Heavy Clubs. Swinging heavy weights is not the prime objective of Indian Clubs exercise.
Are you are thinking of 5lb, 10lb, 15lb or 20lb clubs?
Don't be seduced into buying and using clubs that are too heavy for you, as you may injure yourself as a result. It is not the exercise that will hurt you, it is the weight of the club.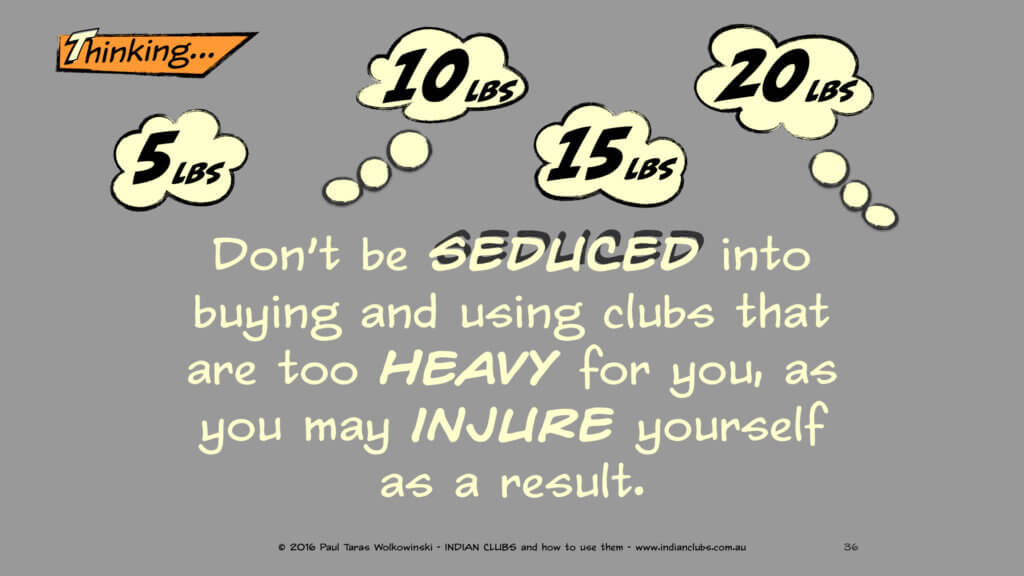 Master and perfect your technique
However once you have mastered and perfected your technique with lighter clubs you can move to using heavier clubs weighing three pounds, and you will be surprised how demanding a 3lber can be. When you are ready to increase the weight of your clubs do it in small increments.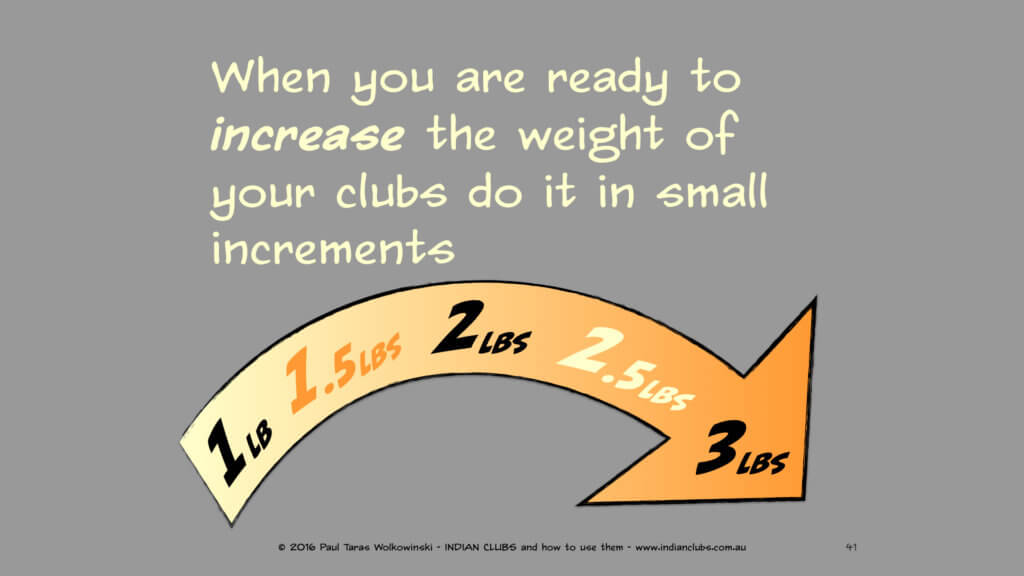 Crash and Knock
Just be aware that you will probably crash and knock your clubs more than once, this happens to all of us, so don't get precious about your clubs, you should think of the dings and marks as a badge of honour.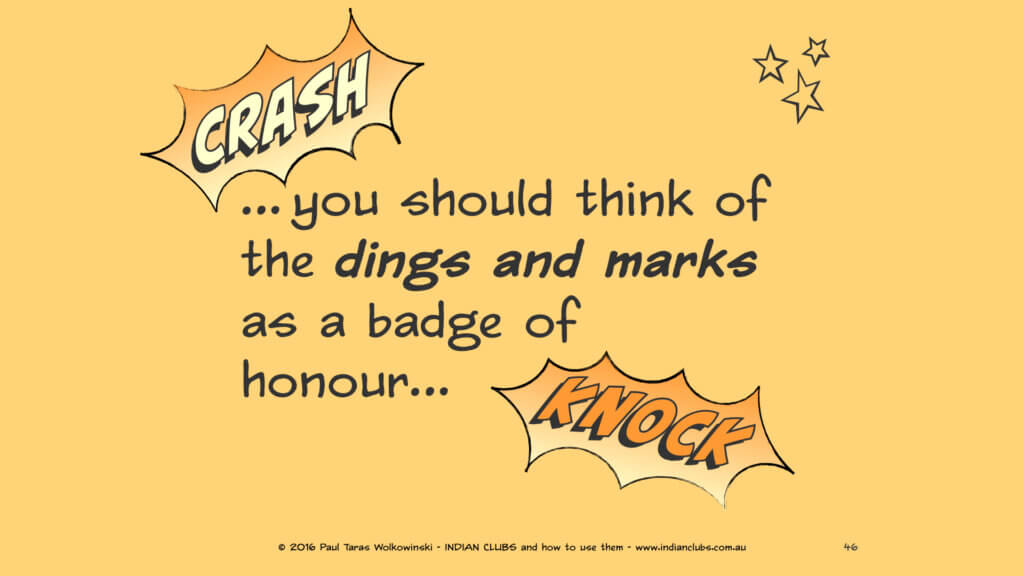 Want more secrets about Indian Clubs?
You can read more and learn more about the anatomy of Indian Clubs by downloading a FREE eBook by clicking here…..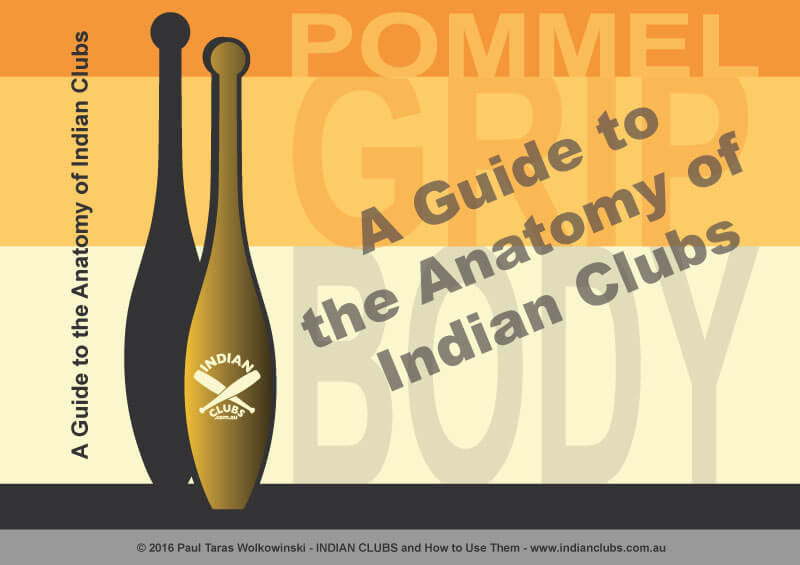 And you can access free training for beginners and learn to swing a single Indian Club routine…..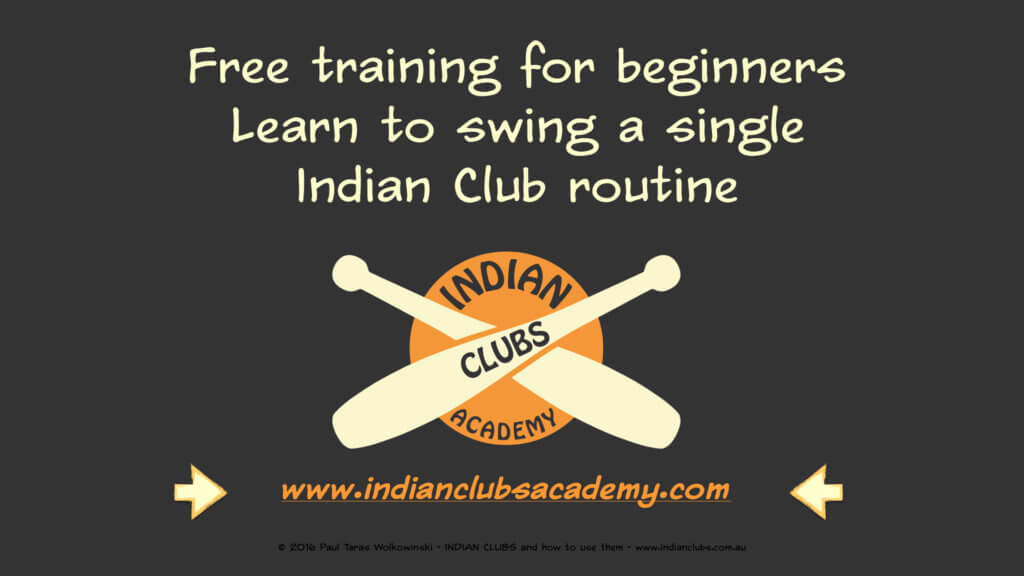 Buying Indian Clubs
You can buy new, old or antique Indian Clubs to use for training. To help you I have put together a list of INDIAN CLUB manufacturers on this website.
www.indianclubs.com.au/manufacturer-links/
Over the last 150 years, Indian Clubs have been made in a mind-boggling variety of weights and sizes, the list below is intended as a rough guide to help you choose and identify the best clubs for you.
Imperial
12" inches 0.5lbs (children)
14" inches 0.75lbs (children and ladies)
15" inches 1lb (ladies)
18" inches 1.5lbs (ladies)
20" inches 2lbs (ladies and men)
22" inches 2.5lbs (men)
24" inches 3lbs (men)
Metric
30 centimetres 0.23kg (children)
35 centimetres 0.34kg (children and ladies)
38 centimetres 0.45kg (ladies)
46 centimetres 0.68kg (ladies)
51 centimetres 0.91kg (ladies and men)
56 centimetres 1.14kg (men)
61 centimetres 1.36kg (men)
I hope you found this post useful. I'd love to know if you have any questions. Please leave me a comment below.
Visit us on YouTube:-  INDIAN CLUBS and how to use them by Paul Taras Wolkowinski
Like us on FaceBook:-  INDIAN CLUBS on FaceBook