Orange Jori
This video is about the preparation and build up to swing heavy Orange Jori at Shri Shri Hanuman Ji Vyaayaamshala Akhara, Hanuman Ghat, Varanasi.
This special training session was organised in the morning following the early session at this Akhara. Everyone taking part encourage all the participants in every step.
Warm Up
The warmup started with single-handed Gada swinging, and progressed two-handed Gada swings and the first swings of Jori Clubs.
Indian style swings
Next bigger Jori clubs were swung Indian style, where the clubs use the shoulder as a leverage point before sliding into the swing at the back. It is worth noting the amount of rotation made by the shoulders, with the hips facing forwards at all times. All of this is done facing the mirror, so the athletes can check their form.
Persian style swings
Jori clubs can also be swung in Persian style, this swing is performed at double time rather than  the traditional single time, that means that both clubs are in simultaneous motion. The clubs are swung without any body contact. Jori clubs are much longer than Persian clubs, making this style is very difficult to swing.
Grip
I have to mention the grip method is also different, the Persians use the PINKY grip which allows a deep front descent, and the Indians use the HAMMER grip which helps to control the club, but has a much shallower front descent.
Thin and Fat Jori
Jori clubs are made into different widths, which are simply referred to as THIN and FAT.
Thin Jori are easier to swing because they are narrower, making them more manageable to control whilst mounted on the shoulders.
Fat Jori dramatically change the shoulder environment, with the shear bulk making them difficult to keep mounted on the shoulders, as they will just roll off if not controlled correctly. In this example the clubs never leave contact with the body, sliding both up and down.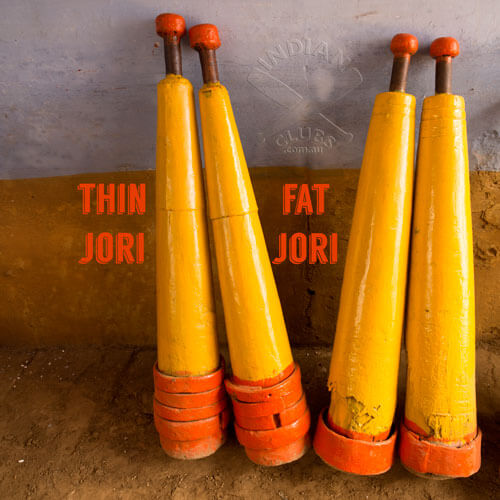 Hand Nal
Heavy, awkward and difficult at the best of times.
Heavy Long Thin Jori
Observe the shoulder rotation, and sliding technique.
Orange Jori
The handles are covered in a sticky resin, which helps the athlete hold the clubs.
The shoulders are anointed with mustard oil to help the clubs slide on and off the shoulders, plus the oil is protection preventing skin burn due to the weights involved.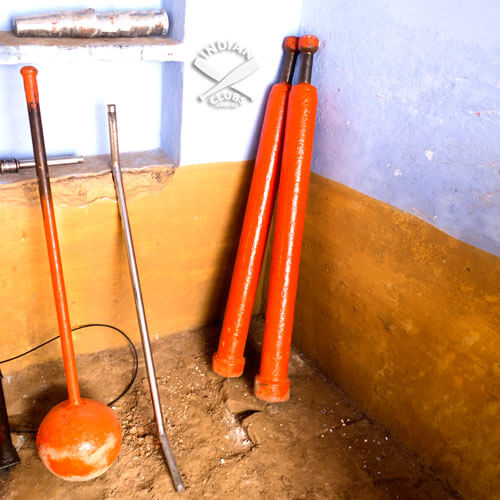 Traditional Beliefs
According to traditional beliefs, the athlete must keep his mouth closed during all forms of exercise, and breath through his nose, by doing so he will keep all his energy within his body and direct it to his training.
I would like to thank everyone who took part in this demonstration at Shri Shri Hanuman Ji Vyaayaamshala Akhara, Hanuman Ghat, Varanasi. It is very much appreciated.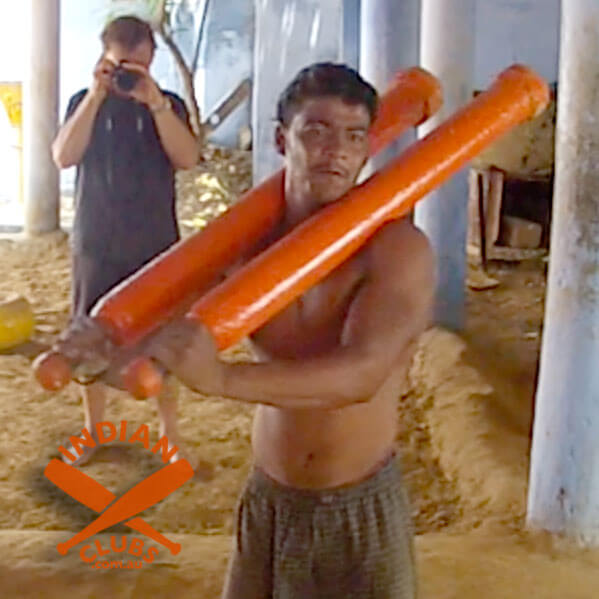 Visit us on YouTube:-  INDIAN CLUBS and how to use them by Paul Taras Wolkowinski
Like us on FaceBook:-  INDIAN CLUBS on FaceBook