Ogornat Akhara Cobra Festival
The Ogornat Akhara Cobra Festival celebrations started in the afternoon at 2pm on 1st August 2014.
I had paid them a visit the day before, and saw all the preparations, which included a major clean, and a fresh coat of  blue paint for all the equipment.
On visiting many Akharas this week I became aware that some of them do not have a mud wrestling pit. Ogornat Akhara is one such place.
The reason is that Akharas split into different categories namely Strength and Kushti.
Traditional Strength Akharas
Traditional Strength Akharas focus on Gada, Jori Clubs, Dumbells and Nal (hand and neck stone weights), there are some that have adopted free weights.
Gada athletes swing 10-2's, two handed, and work ladder style increasing Gada weights. The 10-2 swing is specific to this discipline, with their feet firmly planted on the ground, a shoulder width apart.
Jori Club athletes use the Gada for warm ups and swing 360's single handed, they use 10kg, 15kg and 20kg weights. The stance allows for one foot to come up of the floor during training. Jori Clubs have two categories THIN and FAT. The difference between the two is that the THIN clubs are easier to catch on the shoulder, and the FAT clubs are much harder in this regard. Both THIN and FAT clubs come in all weights, and there is a difference in the way they are both held and handled.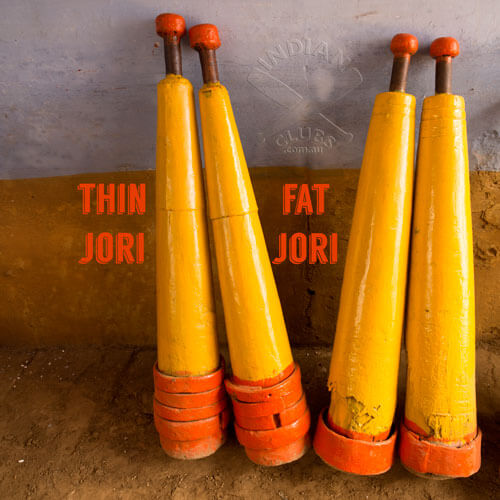 The NAIL Jori requires a different technique more akin to the Persian Club style, where the clubs are swung without any body contact. The Cobra Festival in a Strength Akhara is celebrated with handling displays and competitions of all their equipment which you will see in this video.
Kushti Akharas
Kushti Akharas focus on wrestling, and their training relies on body weight exercises like dands, bethaks, rope climbing plus others, also including lighter weight Gada, Jori Clubs, Dumbells, Nal (hand and neck stone weights), and free weights. The wrestlers pride themselves on being supple, and avoid the use of heavy weights. The Cobra Festival in Kushti Akharas is celebrated with wrestling matches.
Visit us on YouTube:-  INDIAN CLUBS and how to use them by Paul Taras Wolkowinski
Like us on FaceBook:-  INDIAN CLUBS on FaceBook