Jori Swinging Street Contest
The Akharas in Varanasi organise competitions for Nag Panchami (Cobra Festival), such as Wrestling, Gada swinging and Jori Club swinging. The footage on this video was recorded at a night time street Jori Swinging Street Contest.
There are four categories in the Jori Swinging Competition.
Number 1.          35 kg and upwards in each hand
Number 2.          29-32 kg each club
Number 3.          25-27 kg each club
Number 4.          20-22 kg each club
Each category is swung for maximum repetitions, a swing with both left and right arms counts as ONE.
Warm ups
Each contestant warms up by swinging the Gada Mace 20kg, then they switch to Jori Clubs and perform a ladder style warm up through three to four sets of clubs, increasing weight each time.
A contestant applies mustard oil called SARSO KA TEL to his shoulders, cheeks and the Jori Club itself which helps the club slide on and off the shoulders during the swing.
The club handles are coated in a sticky substance called GEELA RAZZAN, and then coated with a magnesium powder. This combination enhances the gripping of the club.
Each contestant has personal attendants who clean and prepare the club handles. They also rub the sweat of the contestant before the final heavy swing in each category.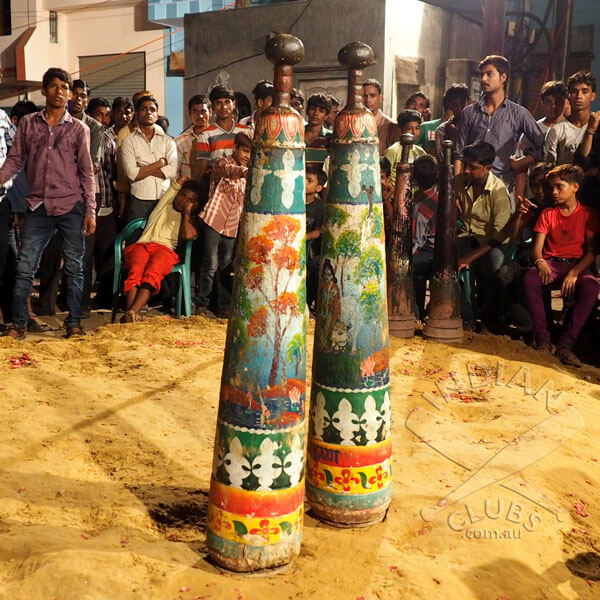 It is worth noting that the Jori swing style is based on sliding the clubs on and off the shoulders as opposed to the Persian Club which is held forward of the body, with the exception of heavier Persian Clubs which are handled in a similar way to the Jori.
The excerpt below is courtesy Wikipedia
http://en.wikipedia.org/wiki/Nag_Panchami
Nag Panchami (Cobra Festival) is celebrated all over North India from historical times snakes have been worshipped by Hindus, and places of worship are reported as early as 700.
In north western India, it is the time when Akharas (venues of wrestling practice and competitions) as part of Nag Panchami celebrations are cleaned up thoroughly, walls painted with images of snakes, training equipment is repainted, priests preside, and the gurus are honoured along with the sponsors. The significance is that the wrestlers stand for virility and Naga symbolises this "scheme of virility". Akharas are decorated with snake images showing snakes drinking milk.
On this day snake charmers are everywhere in towns and villages displaying snakes in baskets. All types of snakes are on display, such as pythons, rat snakes, and cobras mingled together. Some of the snake charmers hang limp snakes around their neck and crowds gather to witness these scenes.
Visit us on YouTube:-  INDIAN CLUBS and how to use them by Paul Taras Wolkowinski
Like us on FaceBook:-  INDIAN CLUBS on FaceBook